Services
Parking space

only a 700-metre walk to the terminal

24-hour service

no key hand-over

high security standards

free cancellation

Real-time availability & prices

easy & safe booking

...view all services

Parking space

Parking on a fully paved surface; the tramlines are asphalted. Max. vehicle size: 2.5 m (W) x 5.0 m (L). No height restriction.

only a 700-metre walk to the terminal

The walk from the parking exit to the terminal at the Nuremberg Airport is only 700 m. Take a picture of the map next to the pay machine for your way back to the car park. Our tip: for more comfort, drop off passengers and luggage at the airport terminal before parking, access to the terminal for loading and unloading is free for a few minutes.

24-hour service

The car park is open around the clock every day. For all concerns and questions, you can reach our customer service any time by telephone. In case of problems on-site, please contact our 24-hour staffed parking control centre directly via the intercom systems in the field devices.

no key hand-over

Parking without giving up your keys! Every guest at Easy Airport Parking at the Nuremberg Airport parks themselves without exception and keeps their own car keys!

high security standards

The car park is completely fenced in, secured with a gate and illuminated in the dark. At night, an external security service carries out regular patrols. In addition, the entrance to the car park is monitored by video. The camera images are shown live in our 24-hour staffed parking control centre.

free cancellation

The Smart Tariff of our airport car park can be cancelled free of charge until midnight on the evening before the booked arrival day. Only the Budget Tariff cannot be cancelled. The respective cancellation conditions will be shown in detail during the booking process.

Real-time availability & prices

With us, you park with full control over the costs. Available tariffs and associated prices are displayed in real time. There are no hidden costs or surcharges for bulky luggage or larger groups.

easy & safe booking

You can book your parking space easily and securely via our website. Immediately after your booking you will receive a booking confirmation by e-mail. With your booking, a parking space is guaranteed to be free on the day of your arrival.

Discounts

No matter whether you fly only once or several times a year. With a free customer account at Easy Airport Parking, you can always score points throughout the entire process, because as a registered user, you automatically receive parking discounts. These apply not just to one location, but also to all Easy Airport Parking parking lots and parking garages. Create a free user account here.

Real customer reviews

The reviews on our website come from guests who have already parked their car with us at the airport. All ratings are collected and verified by eKomi, Europe's largest independent provider of transaction-based customer opinions and product reviews. This ensures transparency and trust for your security at all times.
Parking at Nuremberg Airport
We'll arrange the parking at Nuremberg Airport for you so you can stay as relaxed and worry-free as possible as you set off on your next trip. As a customer of Easy Airport Parking, we offer you an inexpensive and secure car park at Nuremberg Airport and numerous inclusive services. Thanks to our fair and transparent prices all year round, you don't have to worry about your holiday budget melting down. Whether it's a short trip, a business trip or a holiday – here, every air traveller will find a suitable and reliable solution for parking at Nuremberg Airport.
As a rule, parking at Nuremberg Airport is done without turning your keys in. You park your vehicle yourself and take your key with you so that nobody else has access to your vehicle. Through an external security service and surveillance cameras, we guarantee the highest security standards for your vehicle. For all requests, our customer service is available around the clock.

Our tip: all passengers, including luggage, can be easily dropped off at the departure terminal before going to the parking lot when parking at Nuremberg Airport. You will pass directly by the terminal anyway, and the terminal access for loading and unloading is free of charge. So you can travel even more relaxed.
You can find us here at Nuremberg
Easy Airport Parking Nuremberg
Flughafenstrasse 122
90411 Nuremberg
Germany
Frequently asked questions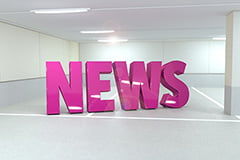 You want cheaper parking?
Register now for our newsletter and never miss a special offer again!
✓ benefit from discounts ✓ be up to date at all times ✓ useful information