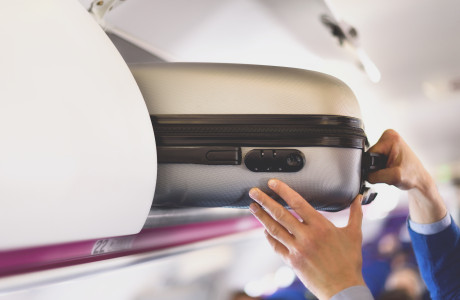 Facts about hand luggage: what you should know
Before you can finally board your flight as a passenger, you must go through the security check. This is often an unpleasant bottleneck. Especially during the peak travel season, such as the summer holidays, you need a good portion of patience here. We recommend that you arrive at the airport early so that you have a sufficient time buffer before your flight. Also so you don't have to get nervous when the security check takes longer. Delays caused by other passengers cannot be helped, but with a few simple tips and tricks for your hand luggage, you can significantly reduce your stress level at the security check.
How do I pack my hand luggage optimally?
Airports are equipped with the latest technology that scans hand luggage and easily detects even the smallest objects on the body or in the pockets. However, it may happen that security personnel ask you to open individual pieces of baggage for a thorough check. The hand luggage is then searched manually by the staff. As a rule, however, critical objects are easily identified by personnel on the screens.
In order to save time during the security check, a clever packing system for your hand luggage is essential. Laptops, smartphones and other electronic devices should be kept handy in your pocket, because you have to take them out anyway and put them in the security containers for the X-ray scan on the conveyor belt. The same applies to your liquids. These are also checked separately, it is best to place these items as high up as possible in your hand luggage. In this way, you avoid spending time rummaging and digging in your pockets. If you also carry presents in your hand luggage, you should ideally pack them after landing. The security staff at the airport will have them opened from time to time so that they can take a look inside.
Please note that your hand luggage cannot not exceed the standard dimensions of 55 x 40 x 20 cm (21.7 x 15.7 x 7.9 in). You cannot take larger items into the aircraft cabin. These must then be handed in at the check-in counter, which entails additional costs. With the sometimes-horrendous airline fees, this can even cloud the holiday mood spontaneously.
What's allowed and what's not? Prohibited items in hand luggage!
According to the EU regulations, all objects on board a passenger aircraft classified as "dangerous" are prohibited. This is generally not a problem, because the guidelines for baggage that is checked before the flight are a bit looser. For example, you can still carry things in your checked bag that you would have had to leave behind at the security check in your hand luggage. However, the EU regulations cannot define all objects that are considered dangerous. It is therefore a matter of discretion whether some items can be carried in hand luggage. In individual cases, this is the responsibility of the security personnel at the control point in the terminal.
When packing your hand luggage, simply note that, as a rule, all objects that can be used as a weapon against third parties on board an aircraft and could injure them are prohibited. This also includes tools, sports equipment and knives with a blade of more than 6 cm (2.4 in). With a little luck, nail clippers, nail files and disposable razors can also be brought on. However, this is not guaranteed, which is why these items should be stored in checked luggage when possible.
Electrical appliances, liquids, medicines and customs goods
Electrical devices such as laptops, smartphones, tablets, etc. are uncritical and are allowed on-board the aeroplane. This also applies to charging cables, headphones, cameras and more. On the other hand, the requirements for liquids are much stricter, as they pose a potentially greater risk. The maximum volume for liquids in hand luggage is 100 ml. If you wish to take liquids with you in your hand luggage, you must store them in a transparent and closable plastic bag. Place this in the security containers at the security checkpoint together with the electronic devices. Don't wait for the staff there to ask you. This again saves valuable seconds on your way to the plane.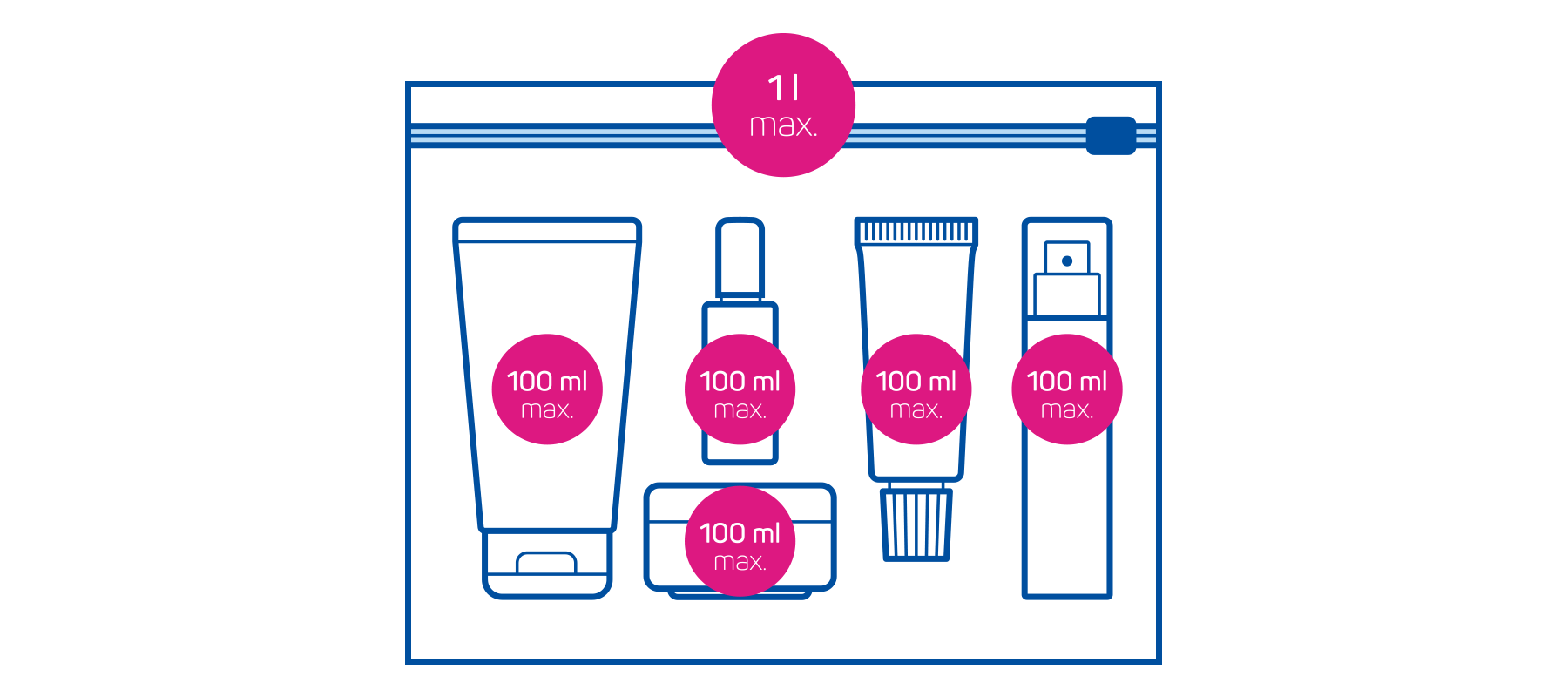 If you are dependent on prescription drugs, always take them with you in your hand luggage. In the unlikely case that your suitcase gets lost, you still at least have your medication. If you carry them in your hand luggage, you should have a certificate from your family doctor with you as a precaution. Otherwise, there may be problems with the inspection or later entry into a foreign country. Over-the-counter medicines, such as headache tablets, are not covered by this prescription regulation. You can find out which medications you should take with you as a precaution in our article on the First-aid kit.
Note: Everything important for customs, such as perfume, spirits and cigarettes are of course subject to the general customs regulations. If you are unsure, ask how many goods you are allowed to import and export duty-free.
Flight and safety regulations of the airlines
The regulations for hand luggage vary from country to country, but the airlines themselves vary with their regulations. Airlines from the Middle East, such as Qatar Airways or Oman Air, are particularly meticulous when it comes to prescription medicines and customs goods. The safety regulations of European airlines are high, but less complicated than in the Middle East. Different safety and flight regulations may apply to Russian and Asian airlines.
In general, it is advisable to familiarise yourself with the flight and safety regulations of the respective airline and the country of destination before starting your journey. Information can be obtained from the websites of the airlines and the Federal Foreign Office.