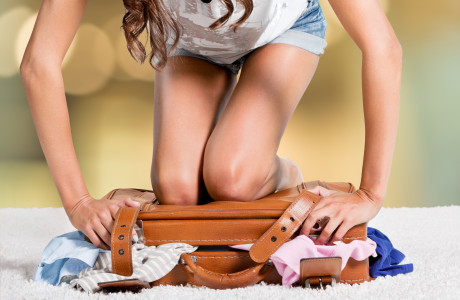 Pack your bags: 10 space-saving tips
The excitement for your holiday is dimmed by the mere thought of the inevitable: packing your bags. This part of the preparation can be quite nerve-wracking, and so much is already certain: packing suitcases properly is a learned skill!
Space-saving suitcase packing begins even before your clothes are laid out. Write a list of things you will need in your first-aid kit, what clothes to take with you and what equipment is missing for your trip. This way, you make sure that you don't forget anything and it's a great feeling when you can check things off your list. Our tips will help you pack your suitcase space-savingly and efficiently. You will then have even less stress when unpacking at your Holiday destination. Try it yourself – you will be amazed!
10 tips to save space in your suitcase
1. Roll garments instead of folding them
This technique saves space and your clothes don't wrinkle so quickly. Ironing is no fun at home, so don't spend your holiday ironing.
2. Use the gaps
Small gaps inevitably occur during packing. Use these by stuffing them – as well as small spaces such as shoes – with small things like socks. This allows you to make the best possible use of the space available. In addition to socks, sunglasses and charging cables also fit well here.
3. Work in a structured manner
Put clothes or outfits that you will probably use first on top. This applies, for example, to your pyjamas or swimwear. Either you are going to fall right into bed after your arrival, or you will enjoy your first day of holiday at the beach after an early morning flight.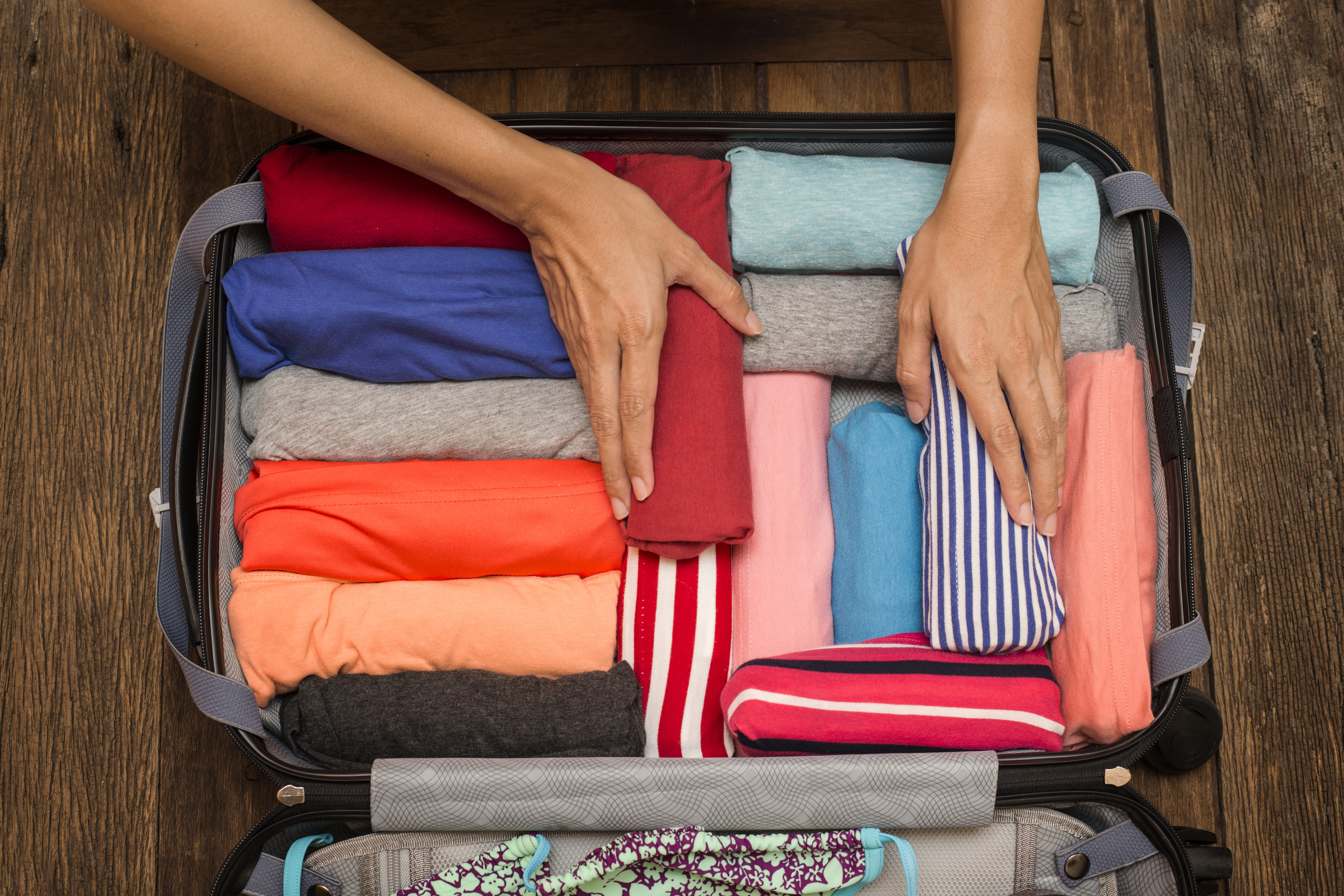 4. Plan your outfits
Put your outfits together in advance at home in the same way you would like to wear them on holiday. Then place these in the suitcase in an orderly and naturally-rolled form. This even saves time on holiday, believe it or not.
5. Filling shampoos & Co.
You don't need a whole bottle of shampoo, conditioner or cream for a few days' holiday a year. Simply fill travel-sized bottles and containers. These are now also available in plastic-free aluminium and glass versions.
6. Multi-purpose shoes
The shoes not only take up a lot of space in your luggage, they also put a lot of weight on the luggage scale at the airport. Here's the rule: less is more. Before your flight into the sun, decide on one or two pairs of shoes, which you can combine and wear for several outfits and occasions. Flip-flops, for example, are light and space-saving to stow away – sometimes you can bring an extra pair. However, remember that you may also want to buy new clothes on holiday.
7. Everything you wear is not weighed
If you can't do without your cuddly oversize sweater or your bulky jacket, have no fear. Since it is often quite cool in the aeroplane anyway, a cuddly sweater can come in handy. Whether it's a heavy pair of jeans or an oversized jacket. So you can easily kill two birds with one stone, because everything you wear on the day of your flight is not weighed and does not have to fit in your suitcase.
8. Clever choice of clothes
A real must-have for every holiday wardrobe are large shawls or thin scarves. They take extremely little space away from the suitcase volume and are extremely versatile and combinable. The fashionable multi-purpose pieces can be worn on the neck to protect against the wind or extra-cold air conditioners, on the head to serve as rain protection or can be placed over the shoulders out of respect when visiting a sacred site. On the beach or during spontaneous stops in nature, a larger cloth can also be used as a reclining or seating option. And if you practice a little, you can even wrap a scarf as a skirt or top.
9. The weather forecast for the destination
If you check the weather forecast for your destination before packing, you may be able to save unnecessary luggage. Today's weather forecasts are usually quite accurate for up to 7 days in advance – the general trend, at least, can be identified relatively reliably. Thus, checking the weather forecast before departure can help make a more precise choice of clothes and thus save a pound or two.
10. Suitable luggage
For different journeys, you also need different luggage. That's why we recommend that you take your time to think about which suitcase or bag best suits your trip. If you're going on a short trip, take a smaller bag. If you won't be staying in one place, but instead will travel around, it's best to take a large backpack. These are lightweight and more comfortable to carry than a bulky suitcase. In the case of packaged tours, transfer is usually also provided, and a relatively large piece of luggage is included in the price. For this you can choose the big suitcase.