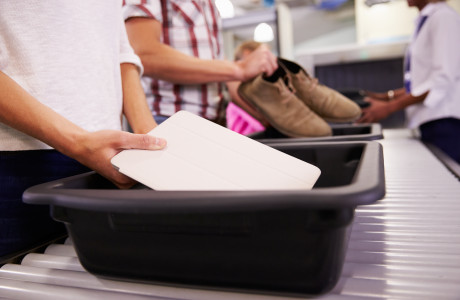 Security control at the airport
Once you have checked in your baggage at the check-in counter, you must pass through the security check. This is where your person, hand luggage and other items on board are checked – the last hurdle on your way to the plane. The obligatory check for each passenger is a prerequisite for entering the airport security area. In principle, this security check is voluntary for you. Theoretically, nobody is forcing you to undergo this control. However, a refusal will automatically prevent you from entering the security area and thus from getting to your aircraft.
At the end of the day, you as an air traveller cannot avoid the often time-consuming security check at the airport. But don't worry; if you follow our useful tips, airport control will be a walk in the park. Stay relaxed and always keep in mind: these checks contribute to your safety and that of other air travellers.
Passenger screening
If you have your boarding pass for your flight in your hands and are on your way to the security checkpoint, it's nearly time for your holiday. Please note the following information so that you can quickly reach the security area at the airport and stroll through the duty-free area before your flight:
When you finally reach the security check, you should be proactive in removing your numerous items of clothing and objects. Don't wait for security to ask you. This makes it easier for the security staff and also saves you time. These clothes include:
Jackets

Coats

West

Scarves

Jackets

Headgear

Shirt and trouser pocket contents
Belts and shoes do not usually have to be taken off. However, you may be asked to do so at particularly strict airports, especially outside of Germany. Most often, your shoes will be checked separately in this case. This mainly happens with shoes with high heels and thick soles, as these are well suited as hiding places for forbidden objects. Don't try to start a discussion; just follow the instructions of the security staff. Doing anything else costs you and everyone involved time and stress.
Simply stow your identity documents and boarding pass in your hand luggage. It is better not to carry these important travel documents with you. In the hectic crowd at the tight security checkpoints, IDs and boarding passes are often forgotten in the heat of the moment.
After you have placed your outer garments, hand luggage, electronic equipment and liquids in the security containers at the checkpoint, you go through the actual security check. In any case, only go through the metal detector or the body scanner after security personnel have requested it. Otherwise, you will most probably have to repeat the process. This not only costs you time, but also that of all fellow travellers.
If you have followed all the advice, in most cases, you will be waved through after the check. If, contrary to expectations, the alarm is triggered or the security officer receives critical information on the scanner screen, you will be checked again by hand. The same applies here: stay friendly and don't argue. Simply help when you are asked to lift your arms, open your belt buckle or lift your shoes. During the check, security personnel are authorised to scan your entire body.
Under certain circumstances, your hand luggage may be subjected to a wipe test after the X-ray. This is not unusual, but an absolute routine at the airport. A security guard will then take a swab of your objects or clothes with a test strip. This can detect contact with explosives and thus expose suspicious persons.
Should the security personnel have the impression that you have something to hide during the previous checks or due to unusually nervous behaviour, you may be asked in exceptional cases for a detailed examination in a closed booth. Depending on what they suspect, you may have to take off other items of clothing here in order to eliminate the possibility of hidden objects.
Notes on the body scanner
Passenger screening with a body scanner is voluntary. If you do not want this for personal reasons, a manual check by the security personnel is carried out as an alternative. For this purpose, you should contact the security personnel or the Federal Police on-site. When prompted by the body scanner personnel, enter the body scanner and assume the required standing position and posture required for the scanning process. This takes about 3 seconds. Hold your position and do not move during this short scan. Otherwise, the procedure may have to be repeated.
If the scan result identifies a critical spot, a follow-up check is necessary. Security will inform you of this. The scanner software used at German airports only shows stick figures, not nude images of your body. Only body scanners certified for aviation security control according to EU regulations are used. The only scanner types permitted are those which use non-ionising radiation and therefore do not pose a risk to life and limb.
There's a prohibited article in your hand luggage: now what?
Prepare your hand luggage so that liquids and electronic equipment can be easily removed, as these are usually checked separately. Details on hand luggage and tips to simplify security checks can be found in our magazine article Facts about hand luggage.
It is part of everyday life at the airport security checkpoint that forbidden objects are occasionally found on even "innocent" individuals. That doesn't mean you won't be able to board your plane. If these items are not weapons, drugs, etc.:
you can hand the item over to the person who drove you to the airport, for example, in front of the security check.

you can leave it in a place that is not critical to security, such as your car parked at the airport.

you can check it with the airline as additional baggage. (this is only possible to the extent that the object is permissible, and the airline's rules for prohibited articles and dangerous goods are not uniform).

you can dispose of it alternatively. As a rule, containers are available on-site for this purpose. However, you must throw the item away yourself, as security personnel are not authorised to take your property – even if it is just a water bottle – and dispose of it for you.
Please note that you are not allowed to enter the security area (departure area) if the security check is not yet completed. In this case, the security personnel will escort you from the control area back to the public area of the airport.
Professional tricks to save time at the airport
Which queue moves fastest? A nerve-racking judgement to make in the situation, which may remind many of the supermarket. Choose a queue for the security check that primarily contains business travellers. They can be easily distinguished from holiday travellers at the airport. These travellers have a set routine and know exactly what to look out for. That's why the check-in process is often faster and more efficient than a queue with families and children – at least in theory; sometimes it's just a matter of luck.
Friendly and cooperative passengers are usually handled more quickly. That's just human nature. So when you check in, keep all the necessary documents handy and start with a smile. The best thing about this tip: being friendly costs you nothing and makes life all the easier when you go on holiday.
We wish you a speedy check-in on your way to a well-deserved holiday and a relaxing time!