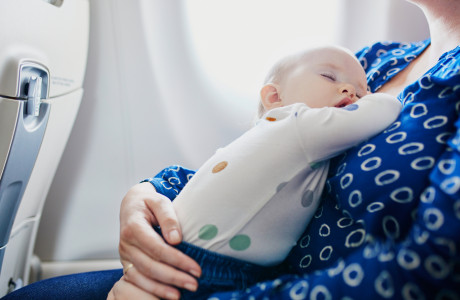 Flying with a baby: facts, tips & FAQs
A relaxing family holiday that starts with an uncomplicated flight with baby, without tears or crying. For most parents, it's an absolute dream. Instead, it's often worries about the flying process that take up a lot of space. Restless nights in the run-up and the constant questioning of oneself: Have we thought of everything? That's why we've put together some useful tips and interesting facts about flying with a baby for you. When are babies allowed on the plane? What should I be aware of when pushing my baby? Can I take my pram on the plane? And what about baby food on the plane? Find out now what's important when you fly with baby.
Content
Flying with a baby: From when are babies allowed to fly?
In principle, flying with baby is possible with most airlines from the age of about two weeks. However, this is of course highly individual depending on your baby, your gut feeling and of course the airline. In any case, it is important to talk to your pediatrician in preparation for the flight and to be patient if necessary. Especially in cases of abdominal pain, ear infections or respiratory diseases, it is better to avoid flying with baby.
However, if your offspring is already a few weeks older, fit and not easily upset in your presence, there is basically nothing to stop you from flying with baby. It may come as a surprise, but the younger the baby is on the flight, the more relaxed it usually is. As long as the little ones are mainly occupied with sleeping, eating and cuddling and still perceive quite little around them, they often do not care about the flight itself, as long as their basic needs are taken care of and the caregivers are there.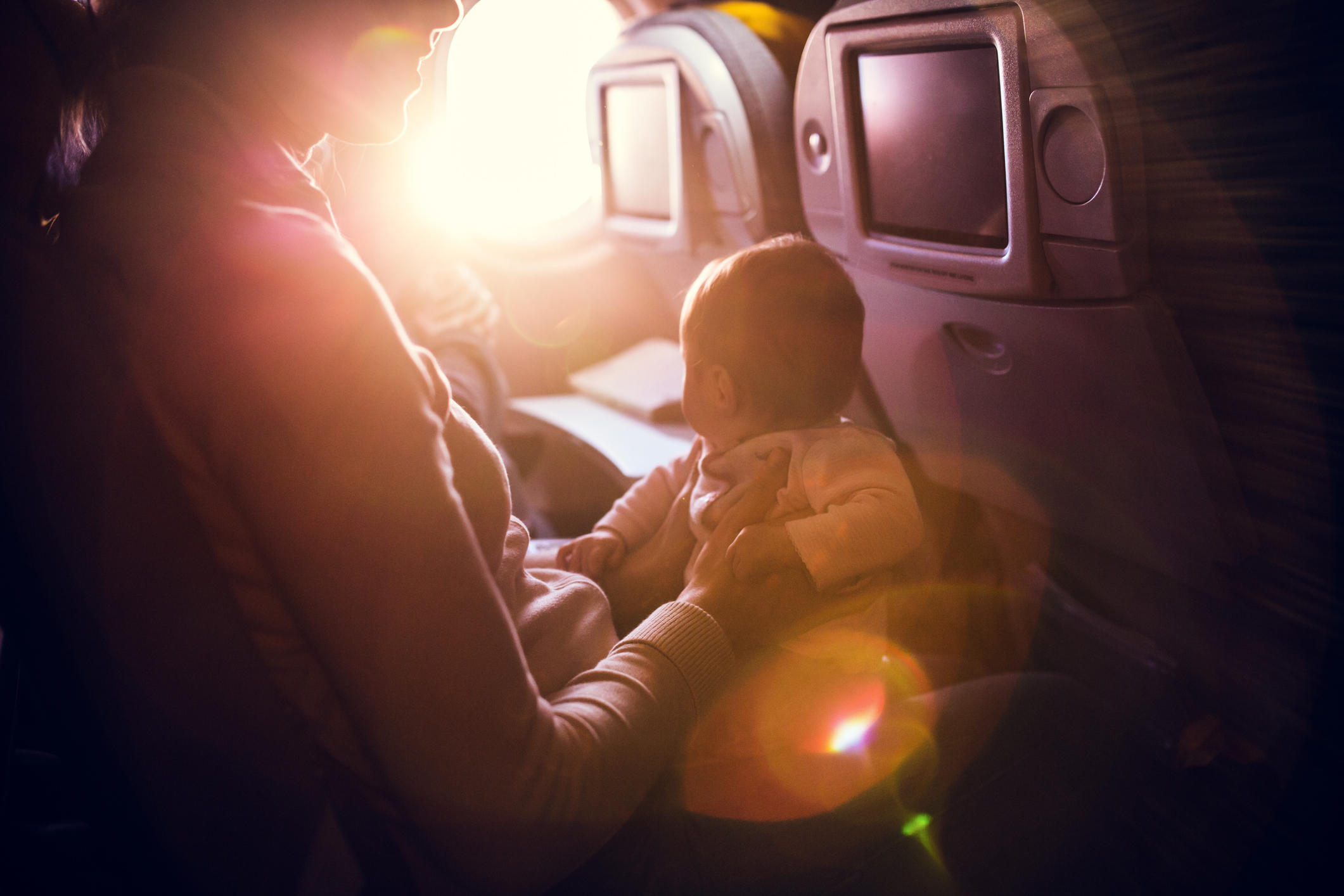 FAQs about flying with a baby
Do babies need a passport?

Yes, identification documents are also required when flying with a baby. For this, your baby needs a child passport - even for flights within the EU. Therefore, inform yourself with sufficient lead time what exactly you need, so that it does not fail in the end at the right issuance of the papers. Here, for example, the vaccination certificate should also be carried. You can apply for a child's passport at the relevant residents' registration office.

How much does an air ticket for a baby cost?

Usually nothing or very little. Children under two years of age usually travel with their parents free of charge or, depending on the airline, only a small additional fee has to be paid on top of the actual flight ticket.

Which seat with baby on the plane?

Of course, the best thing for parents and child is to have a little freedom of movement. That's why it's especially pleasant on large airplanes to take a seat in one of the first rows of seats. Some airlines also offer so-called mother-child seats, which are usually located right there. This is due to the baby cribs and trays that can be attached to the wall there.

Do I need to book an extra seat when flying with a baby?

If you need an extra seat for your baby on the plane, this must be booked separately. This is because infants under the age of 2 are not entitled to their own seat and, in case of doubt, must spend the flight on their parents' laps. However, some airlines offer the option of using a baby crib on the plane. However, the number of these is limited and therefore this should usually be requested or booked at least 2 days before departure. The deadline varies from airline to airline. Therefore, it is recommended to clarify this as early as possible.

Is there baby food on the plane?

In most airplanes there is baby food, however, you should not necessarily rely on it and preferably bring something yourself. Hot water for the baby bottle is always available and jars can be warmed up in most cases. If in doubt, you can also ask the airline in question in advance. There is often information on flying with babies or children on the website. The limit of max. 100 ml does not apply to the baby food you bring with you.

Is a stroller allowed on the plane?

Of course. If you want to take a stroller on the plane, you usually have two options. You can check the stroller or buggy as bulky luggage. The disadvantage of this, however, is that you will not be able to use it until takeoff and immediately after landing. In most cases, you can only check it in at the gate when boarding the plane. With this option, the flight attendants load the stroller onto the plane so that you can use it without any problems until shortly before boarding. Immediately after landing, the stroller is then handed back when you disembark. Especially if the baby is still very small when flying, the second variant is often more relaxed for parents and child.

How do I equalize pressure when flying with a baby?

Swallowing also helps to counteract ear pressure in babies. It is therefore best to give your baby a bottle or breast during take-off and landing. Sucking on a pacifier can also help to equalize the pressure on the ears. In addition, your baby's health plays an important role on the plane when it comes to ear pressure. If your child has had a cold recently, the pressure on the ears can be much more intense and cause real pain. In this case, discuss a planned flight with your treating pediatrician.

When is the best time to fly with baby?

Flying with baby is most relaxing when your baby is sleeping on the plane. Therefore, it makes the most sense to plan the flight according to the sleeping rhythm of the child. Thus, in most cases, night flights are particularly suitable. Therefore, try to avoid long naps a few hours before departure. For parents, a sleeping baby often means that you can't move around much during the flight, but this is a much less stressful alternative for everyone involved. Ideally, both child and parent get a good night's sleep. For this reason, nonstop flights should also be preferred. Changing planes and planes means stress and anxiety even for the smallest air travelers.

How much luggage can I take with me for my baby when flying?

This varies by airline and the age of the baby. Most major airlines allow one extra piece of carry-on luggage weighing 10 kg. If you book an extra seat, then you are usually also allowed to check in an additional piece of luggage with a higher weight, depending on the fare. In addition, the carriage of strollers or buggies is usually free of charge. It is best to check the exact regulations before booking your ticket and not afterwards.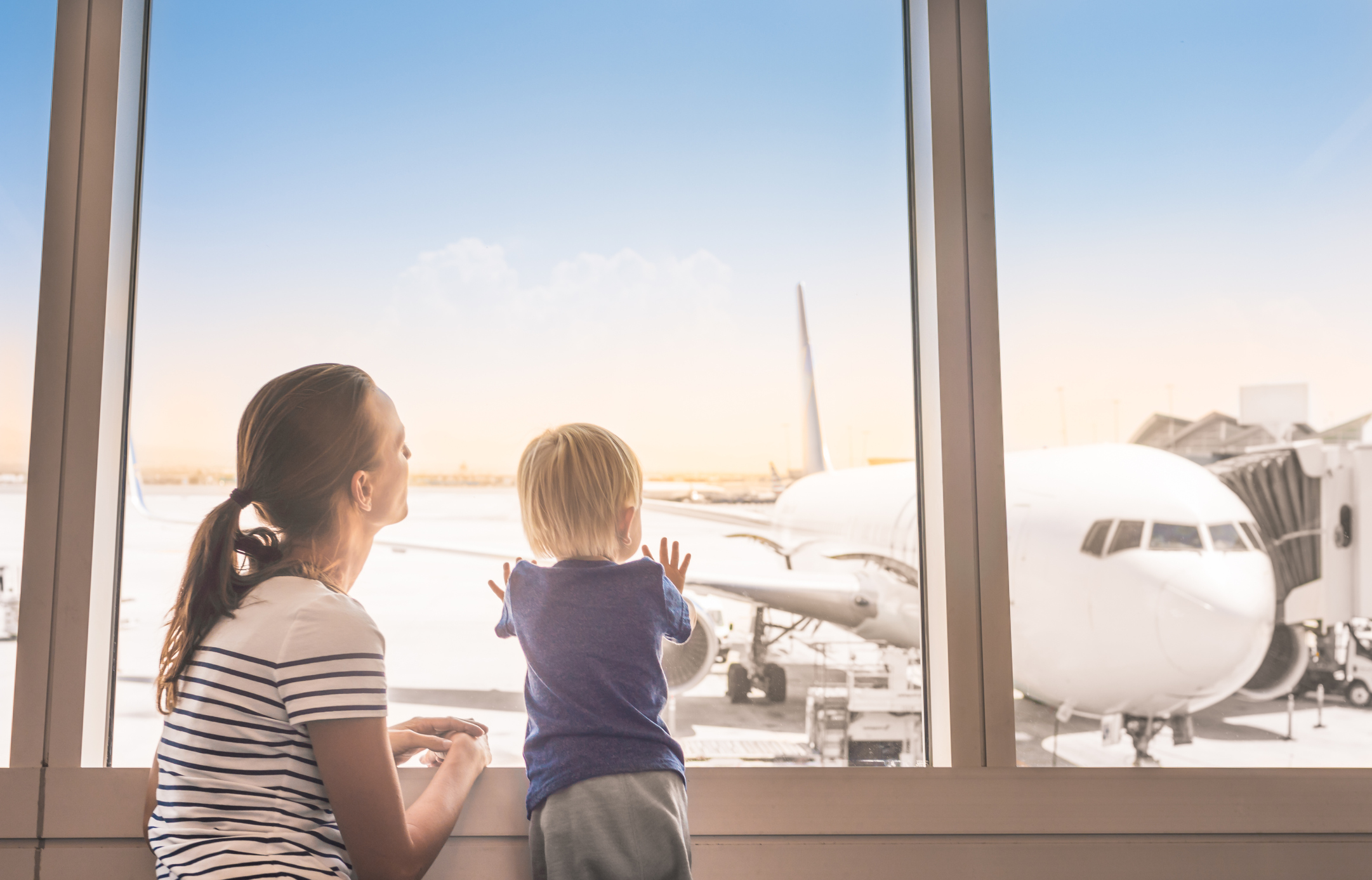 Flying with a baby: our hand luggage checklist
You may take an extra bag in your hand luggage when flying with baby. It is most practical if this is for transferring, so that you can move freely on the plane even with the baby in your arms. Depending on the age of the baby, your bag should definitely contain the following items:
Diapers (sufficient amount for flight and unforeseen delays)

Changing mat

wet wipes & ointment

at least 1x change of clothes

favorite & spare pacifier

Cuddle cloth and/or animal

Emergency medication (e.g. nose drops, fever suppositories)

Baby food & snacks (again, allow for delays; baby food is not subject to the 100 ml limit in carry-on luggage)

Milk bottles (hot water is always available on the plane)

Bib & spoon

Favorite toy

Blanket for wrapping & sleeping
Tip: What apart from the children's things in the hand luggage should and may you can learn in our article facts about hand luggage.
Flying with baby: tips for a relaxed trip
Depending on how and by what means you arrive, you should in any case already build in a sufficient time buffer for the way to the airport. If you are traveling by car, we recommend that you clarify the question of parking in advance. At our Easy Airport Parking locations, you can book a parking space well in advance. This will save you stress and hassle before departure. Also take external circumstances into account when planning your trip. For example, if it is the vacation season, there may be a traffic jam on the way to the airport or longer queues at the security checkpoints.
Online check-in, which is offered by many airlines, also proves to be practical. This way, you only have to check in your luggage on the spot and go through the security check. If there will be other children on the flight besides the baby, you should allow extra time. The more children the more potential for minor incidents. If there is too much time left at the end before departure, use it for a stroll through the duty-free stores, admire the planes together or have a snack before you leave. Arrive at the airport as a family and try to create a vacation atmosphere if this is the reason for your trip.
Of course, it is clearly easier said than done, however, the basic prerequisite for a relaxed baby when flying is that the parents are relaxed as well. If you don't let yourself get rattled, it will be much easier for your child to stay calm himself. Always try to keep in mind that most people are understanding of your difficult situation with a young child. Whether your baby cries or sleeps during the flight, flying with baby is difficult to predict either way. Therefore, try not to put too much internal stress on yourself in advance.
We wish you and your baby a good trip!