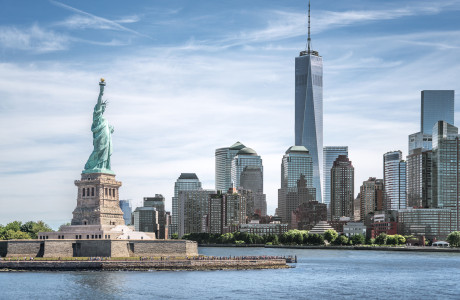 New York Airports: Info & Insights
New York - the gateway to North America. A place of refuge and hope through its ports in the late 19th and early 20th centuries, this metropolis attracts over 55 million domestic and international travellers annually. Fascinating about this city are the well-known locations from film and TV, its history, the unique art and cultural offerings, the fashion scene and numerous other highlights. Today, New York's airports are the gateway to this fascinating metropolis. Three airports are used for this purpose: John F. Kennedy International Airport (JFK), LaGuardia Airport (LGA) and Newark Liberty International Airport (EWR).
Airports in New York at a Glance
Strictly speaking, there are only two airports in New York: John F. Kennedy Airport and LaGuardia Airport, both located in the New York borough of Queens. But because of its dense location and good connections, Newark Liberty International Airport in neighbouring New Jersey, on the other side of the Hudson River, also counts as a New York airport. Moreover, it should not be forgotten that Newark was the only airport in the New York region in the late 1920s and 1930s. Only later did LaGuardia Airport and New York JFK Airport join it.
John F. Kennedy International Airport
John F. Kennedy Airport - also known as JFK Airport - opened in 1948 and is the largest airport in New York. The numbers speak for themselves here: over 56 million passengers are handled annually in the total of six terminals. However, don't be surprised if your travel documents say Terminal 8. The terminals at JFK Airport New York were numbered from 1 to 8, but Terminals 3 and 6 were closed down and demolished over time.
The airport is located in the New York borough of Queens and is about 25 km from Manhattan. JFK Airport receives travellers from all over the world: the most frequent flights to Europe are between London and New York and between Paris and New York. The most frequent domestic flights, on the other hand, are to Los Angeles and San Francisco. Once landed at the airport in New York, there are various options for getting to the city. There is a wide range of bus, train, taxi and subway services to choose from, as well as Uber, which is widely used in the US.
By the way: During the construction and planning phase, the airport was still called Idlewild Airport. After a short time, it was renamed New York International Airport, although Idlewild remained common for a long time. In honour of the assassinated President John F. Kennedy, the airport finally received its name John F. Kennedy International Airport in 1963.
LaGuardia Airport
Unlike JFK Airport, New York's LaGuardia Airport is the smallest of the three airports, but it began operations almost ten years earlier (1939) than JFK. The special feature of New York's LGA Airport is its runways: This airport in the borough of Queens has only two runways that intersect like a cross. In 1967, these were extended so that part of one runway now extends into the East River in the form of a concrete platform. New York LGA Airport mainly handles domestic flights. However, some international destinations, such as Canada or the Caribbean, are also offered. The best way to get from the airport to downtown New York is by bus or taxi. For many years, this airport in New York was considered outdated and run-down: however, renovation began in 2016 and now the New York airport boasts a modern design and a unique water feature.
By the way: Fiorello LaGuardia, after whom the airport is named, used to be mayor of New York. He distinguished himself in his term of office, which lasted from 1934 to 1945, by reorganising the city administration and overcoming the city's poor financial situation.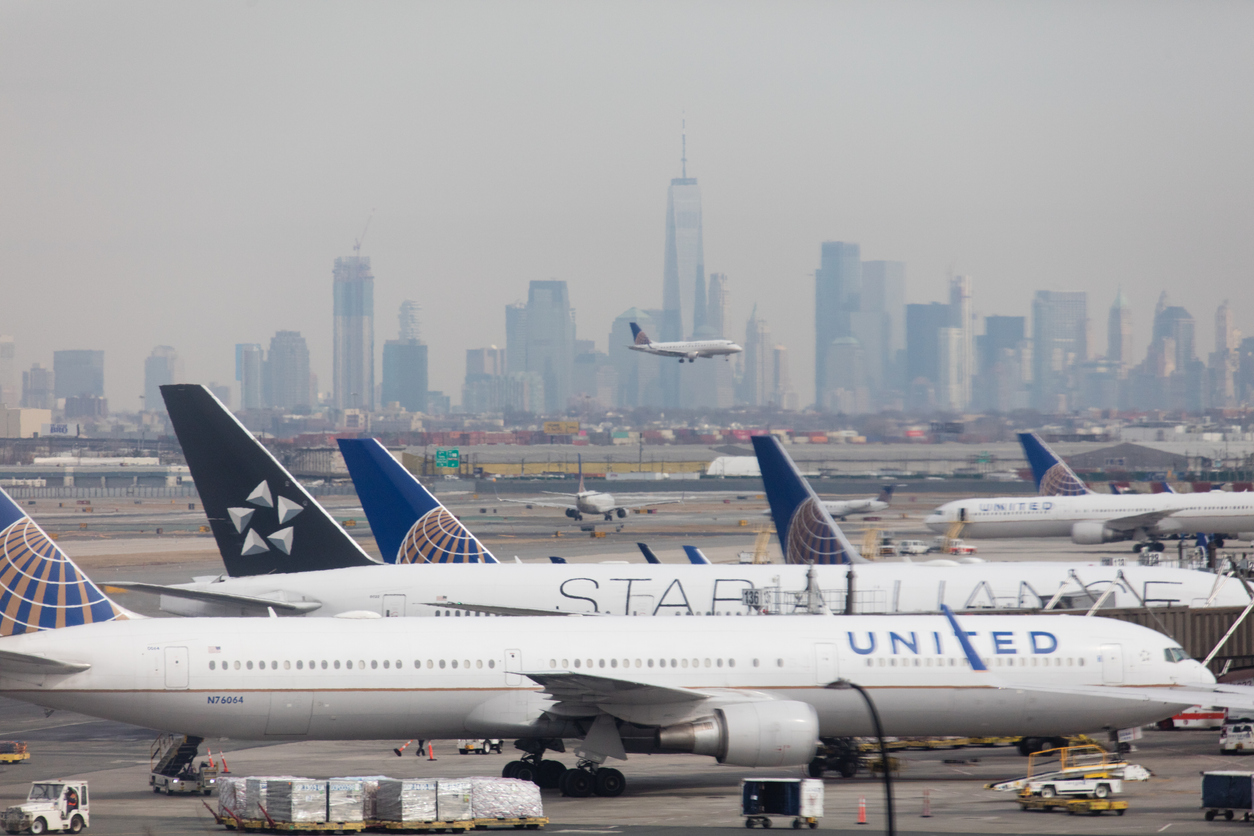 Newark Liberty International Airport
New York's Newark Airport completes the ensemble of airports in New York. It is the oldest airport and the furthest from New York's centre. However, Manhattan can be reached easily by train or subway. Newark Airport New York, located in New Jersey, was inaugurated in 1928, making it the only airport in the region for a long time. At the beginning of the Second World War, however, New York Newark Airport was completely closed to passenger traffic. Until 1948, it was used as a base for the US Air Force (originally still the United States Army Air Corps).
In the meantime, the staff at Newark handles a good 35 million passengers a year in three terminals. In 2003, New York Newark Airport was honoured as the airport with the longest non-stop connections to Hong Kong, Singapore and New Delhi. Numerous aircraft also take off from Newark to and from Germany.
By the way: Newark was given the nickname Liberty in memory of the victims of the terrorist attack on 11 September 2001.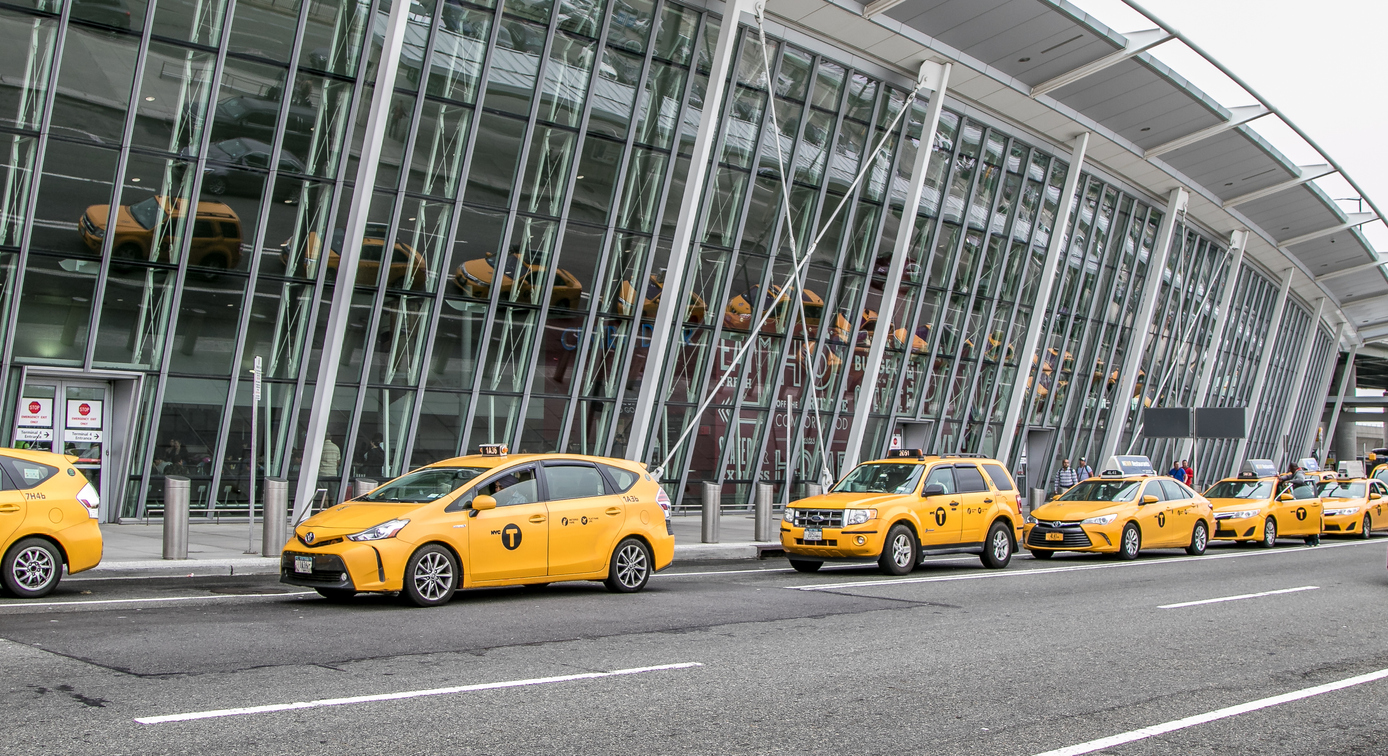 Sights in New York
New York's airports offer excellent connections to the city centre, whether by public transport or taxi. This means getting to your accommodation is hassle-free. But which New York sights are worth seeing and discovering during your stay? We have put together a few suggestions for you.
Buildings and streets
New York is bursting with attractions and sights. Special attention should be paid to the various impressive buildings and streets. If you are staying in New York for several days, be sure to put these TOP 7 on your sightseeing list to experience the development of New York's classic architectural style from Neo-Gothic to Art Deco and to see the world-famous settings of countless films and series with your own eyes:
Statue of Liberty

Empire State Building

Rockefeller Center and Top of The Rock

Brooklyn Bridge

Grand Central Station

Wall Street

Times Square
Museums and Culture
For art and culture lovers, New York leaves nothing to be desired: there are numerous museums of art, nature, technology, history, galleries and various theatres, with Broadway being particularly noteworthy for its radiance. Here are a few suggestions for you:
Musical and theatre performances on Broadway

Metropolitan Museum of Art

Museum of Modern Art

Guggenheim Museum

American Museum of Natural History

Intrepid Sea, Air & Space Museum

9/11 Memorial Museum & Tribute Museum
Parks
Even though New York is one of the world's metropolises, don't expect to find nothing but skyscrapers. If you need a few minutes break from the hustle and bustle of the city, pay a visit to Central Park (Manhattan), Highland Park (Brooklyn), Cunningham Park (Queens), New York Botanical Garden (Bronx) or Latourette Park (Staten Island). You are also guaranteed to come across numerous other parks if you simply go on a discovery tour through the boroughs.