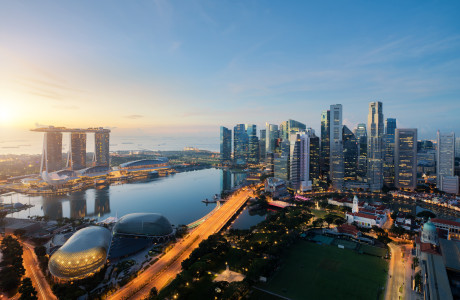 Singapore's Airport: Info & Insights
While some airports try to stand out from others with a slightly better-stocked duty-free area, Singapore Changi Airport offers far more unusual attractions.  For example, Singapore's airport has a butterfly garden, a Pokémon centre and a complete tropical rainforest - in addition to an extremely extensive shopping offer and numerous other special features. But Singapore's Changi Airport is also of immense importance on a commercial and logistical level. As one of the world's largest hubs, Singapore Airport connects destinations on every inhabited continent except Central and South America through layover and stopover flights. But are there other airports in Singapore besides Changi? And what can you discover when you head out of Singapore Airport into the city instead of just waiting for your next connection?
Singapore's airports at a glance
Like most metropolises, Singapore has several airports, two of which, Singapore Seletar Airport and Singapore Changi Airport, are used for commercial passenger traffic. The much smaller Seletar serves mainly short-haul routes with propeller planes and private jets, while Changi is the starting and ending point for flight routes to almost all corners of the globe. The larger and more famous of Singapore's airports therefore boasts an impressive array of awards in addition to cinemas and a cactus garden.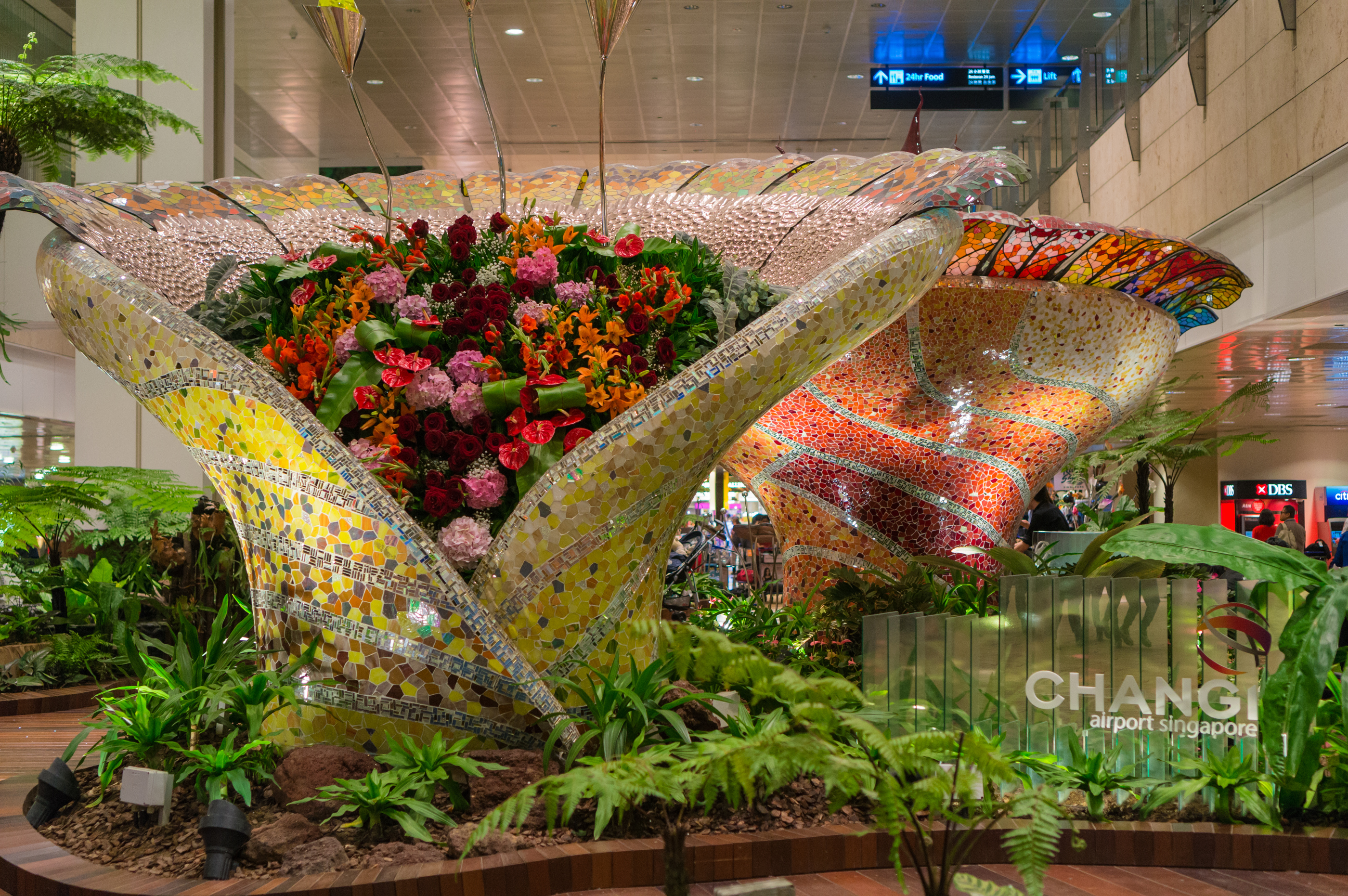 Award-winning: Singapore's Changi Airport
Changi, Singapore's airport with pool and jacuzzi, parks and shopping malls, is truly unique in its focus on making your stay as pleasant as possible. Unsurprisingly, Singapore's Changi Airport has won and continues to win awards on a regular basis. Among other things, it has been voted the best airport in the world eight times in a row by the renowned company Skytrax, making it the record holder. Singapore Airport also repeatedly receives awards for being one of the cleanest airports in the world. Due to the well-regulated procedures, travellers repeatedly manage to leave Singapore Airport in less than twenty minutes after arrival - with luggage and despite passport control!
Attractions in and around Singapore's airport:
A butterfly garden with more than 1,000 specimens from 40 different species.

cycling, walking and running tracks including the Jurassic Mile with more than 20 dinosaur figures up to 5 m high

changing art exhibitions

a cactus garden and a sunflower garden

various offers for weddings, from simple to extravagant

the Aerobar including outdoor pool and pool bar

the Jewel Changi (see below)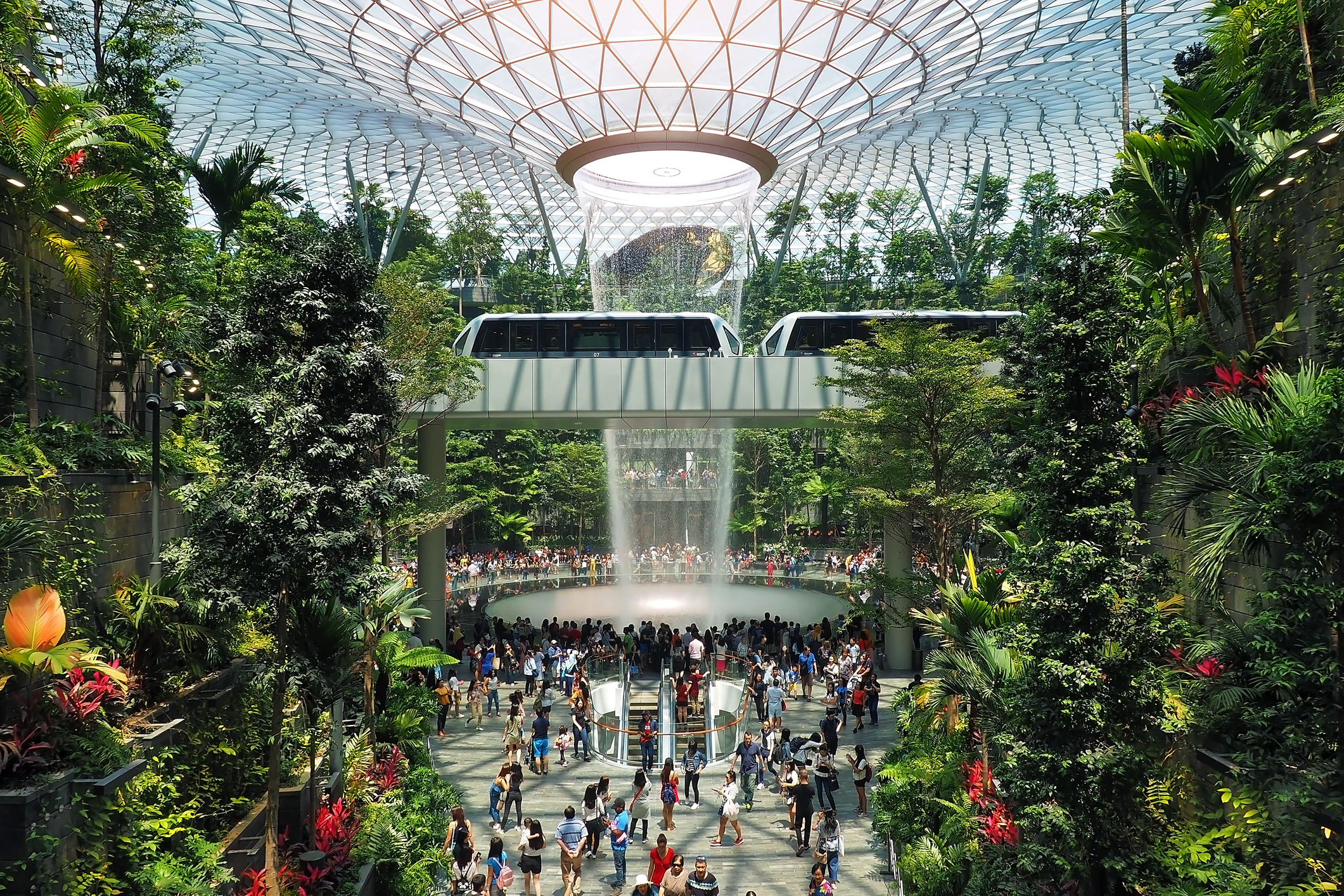 The Jewel Changi at Singapore's airport
The Jewel Changi is a ten-storey shopping and experience centre. Among other things, this part of Singapore's airport houses a waterfall called the Rain Vortex. This is the largest and tallest indoor waterfall in the world and cascades down from an inward-curving glass dome in the centre of the complex. Surrounding the waterfall is the Canopy Park, a landscaped garden with a changing hedge maze and a mirror maze- Large green spaces, such as the Shiseido Forest Valley with some 3,000 trees and 60,000 shrubs, also invite visitors to stroll and linger here. While Singapore's airport is particularly known for special features of this kind, the shopping offer is also impressive with top international brands and certainly attracts locals for shopping trips.
Leaving the airport on a stopover in Singapore
For many, Singapore is a stopover on their journey. For example, from Germany as a starting point to Australia or New Zealand. Thanks to its numerous attractions, the hub offers enough distractions to make the stopover at Singapore Airport fly by. In fact, the Jewel Changi itself now serves as a veritable tourist attraction. But getting out of Singapore's airport for a longer layover can also be a good idea. The MRT, the local metro, takes you into the city with just one change. Without a change, on the other hand, you can travel to the centre in about an hour by bus, and the journey takes about half as long by taxi.
By the way: You can join a city tour free of charge from Singapore Airport if you travel with Singapore Airlines or SilkAir and your stopover lasts between 5.5 and 24 hours.
Sights in Singapore
Besides a short trip to the city to bridge the waiting time, Singapore also offers itself as a destination in its own right. Besides the impressive, ultra-modern skyline, the city also impresses with a turbulent history, fancy cuisine and innovative green spaces.
History
Today, Singapore is an independent city-state, but in the past there were many different answers to the question: "What does Singapore actually belong to? For example, alongside colonial buildings from the time of British occupation, there are strong Malay and Malay-Arab influences in the Kampong Glam district, while Chinatown impressively displays Chinese influences.
Modern architecture
Not only is Singapore's airport a real eye-catcher, the city's unique skyline is one of the most impressive in the world. Buildings like the Marina Bay Sands with its sky park make the city's silhouette unmistakable. A view of the city at night is particularly worthwhile, as the sea of lights lends the buildings a charm all of their own.
Green spaces
Many cities have parks and green spaces to offer, but few are as innovative and varied as Singapore. Here, it is often the ultra-modern buildings, such as the Marina One building complex, that feature integrated green spaces. Just like the Jewel Changi at Singapore's airport, the parks are directly interwoven with the architecture. The futuristic-looking concept gives the city its very own touch and has coined the term Singapore's green heart. But the stand-alone parks also have a lot to offer. The beautiful Gardens by the Bay is particularly recommendable.
Without a doubt, Singapore's Changi Airport itself and the city itself are very attractive destinations that can easily be reached by plane. We therefore wish you a good flight and an exciting stay!