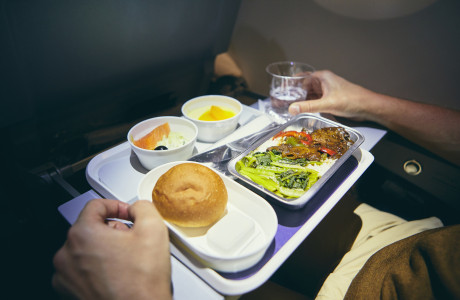 Food on the plane
Flying has long since ceased to be the preserve of business travelers and wealthy vacationers. It has become inexpensive, allowing anyone to take a flight who can find a suitable offer. However, this has also had an impact on service and comfort. Eating on the plane is therefore no longer a matter of course. And even at the bar on wheels, you often don't have a free choice for a long time. We therefore advise you to stock up on sufficient food before a flight. Taking food onto the plane can not only bridge long waiting times, but also save you from a growling stomach. What food gets through security and what is prohibited often leads to confusion. Since there is a lot to consider, we have compiled helpful tips for you to counteract the uncertainty regarding taking food and drink onto the plane.
Content: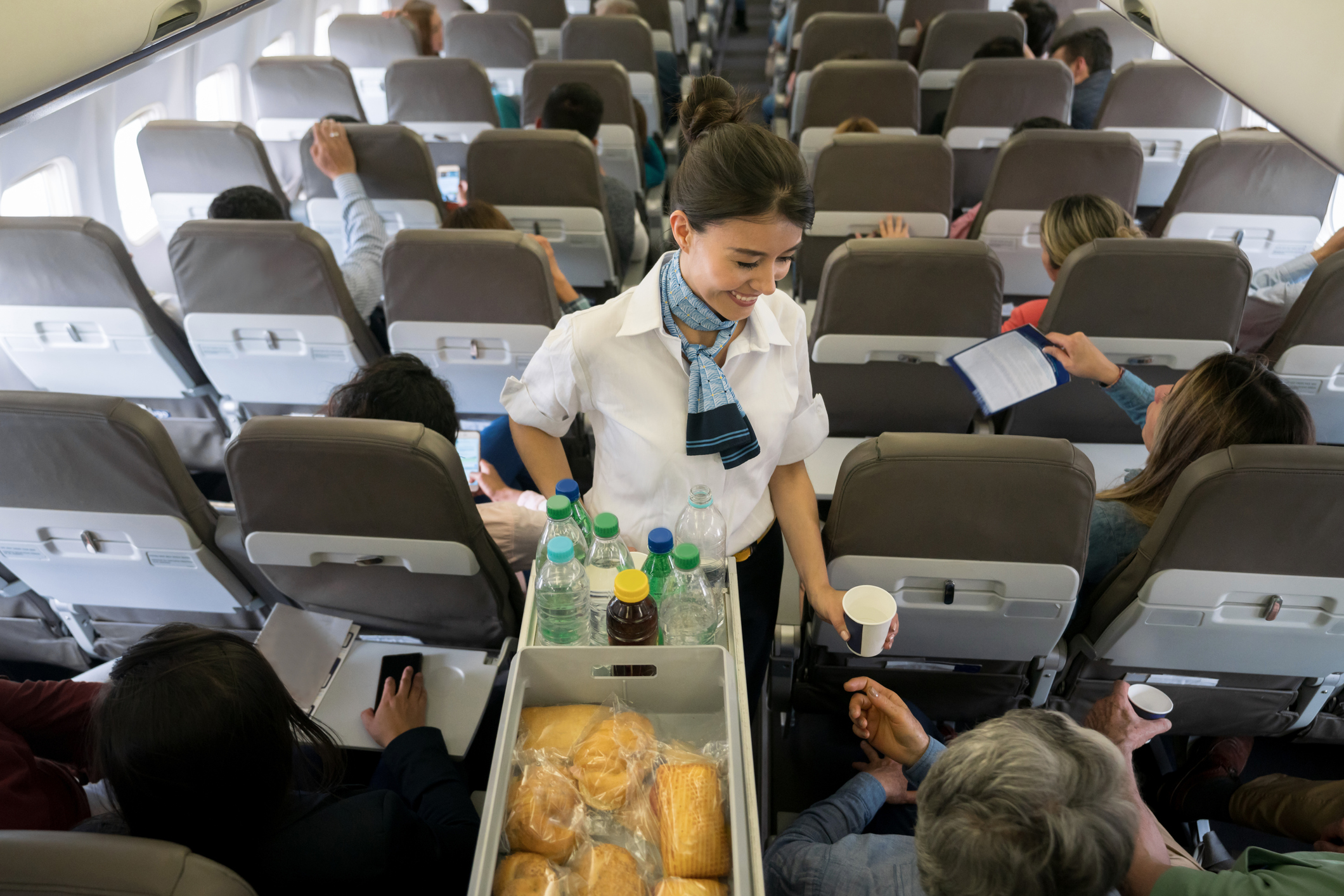 Do you get food on the plane?
Since flying has become a mass business, people mainly resort to low-cost flights. For this reason, in-flight catering is no longer a matter of course - unless you're flying long-haul, sitting in first class or business class.
Food on the plane with low-cost airlines
Low-cost airlines usually serve free drinks and food on the plane from a flight duration of three hours and 45 minutes. Alcoholic beverages and other snacks can be purchased on board at any time. However, hot meals should be ordered in advance.
Tip: If you still need information, tips & tricks on long-haul flights, you will find everything you need to know in our magazine article.
Eating on the plane with network airlines
Network airlines still offer free in-flight meals on almost all routes. However, what is served here also depends on the length of the flight. On short-haul and medium-haul flights, you can expect snacks and small hot meals, while on long-haul flights you'll get a full, hot menu. Most of the time, you can choose between two dishes. However, you will often have to reach for your wallet for extra requests.
Tip: If you suffer from intolerances, have special dietary requirements or are a vegetarian or vegan because of your beliefs or religion, this usually does not result in a price surcharge. Especially in the case of intolerances, you should register this as a precaution at least 24 hours in advance with your airline.
Is it allowed to take food on the plane?
First of all, you have to look at the issue in general and therefore ask the question: Are you allowed to take your own food on the plane? In principle, yes. You are allowed to take food with you on your trip in your suitcase - regardless of whether it is solid or liquid. Depending on the country, there are different regulations as to what may be imported. However, you should be prepared for the fact that it could take a little longer at the security check in the destination country, when the staff takes a closer look at the food. The question that follows is: Are you allowed to take food in your hand luggage? The answer to this is also yes. However, it can be a bit more complicated because of security regulations. You are only allowed to take liquid or gel-like food in 100 ml containers, which can be placed together in a transparent, resealable plastic bag with a maximum capacity of one liter. After the security control at the airport, it is of course possible for you to buy food in the security area and take it with you on the plane. Now is a good time for drinks in particular.
Tip: In our article Facts about hand luggage, you can read about what you are allowed to take on your flight and what not.
Packing food
As a general rule, food on an airplane should usually be packaged and transported in a leak-proof container. This applies, for example, to sandwiches and also fruit. Snacks in original packaging usually go through without a problem because they are sealed airtight, properly labeled and easy to identify.
Avoid strong-smelling foods
Also, when taking food on the plane, for the sake of your fellow passengers, refrain from eating foods that have a strong smell. This is for the simple reason that you will be in a confined space for several hours and, even in return, you do not want to be disturbed in any way by your seat neighbors. Cheeses such as Camembert, fish, garlic, onions and wild garlic should therefore be avoided at best.
Caution with fresh food
In some countries there are strict guidelines regarding the carrying of fresh food, such as fruit, vegetables, meat, dairy and egg products. Therefore, find out the rules at your destination before you leave, or take only as much food on the plane as you can consume during your flight. Otherwise, you may have to throw the food away upon arrival. Depending on the destination country, there may be strict regulations on importing food here to avoid bringing in diseases.
Special rules for baby food
If you are traveling with a child up to the age of three, you have permission to bring liquid baby food in sealed original containers, breast milk and distilled water to provide your child with optimal food on the plane. However, you should make sure to take an appropriate amount on board that is sufficient for the duration of the flight. Important: You must declare this in advance and explain yourself to customs so that you are not held up because of it. Keep food items easily accessible in case they are inspected.
Tip: Flying with baby for the first time? No problem! We inform you about everything you need to know in our article Flying with a Baby.
What food is allowed on the plane?
In case in-flight meals are not included and you should decide to eat yourself instead of buying expensive airplane food, we have prepared a list of ideal snacks for flying. But what food can you take on the plane? There's plenty to choose from. What's more, taking your own food on the plane is not only practical, but often healthier, too, as you can make sure it's well-balanced yourself:
sandwiches

fruits

salads and raw vegetables

muesli bars

nuts

tea bags

chips, cookies and chocolate bars

cakes and pastries

anything you buy in the security area after screening
Tip: If you don't want to buy drinks at the airport, you can take an empty bottle in your carry-on luggage and fill it with tap water in the washrooms. However, find out in advance whether the tap water is of safe quality and suitable for consumption.
What food is forbidden on the plane?
Especially with foods that do not contain visible liquids, it is difficult to identify what is allowed and what is not. This is because all creamy and soft foods also count as liquids. Therefore, here is a brief overview of what food is prohibited on the plane:
jams and jellies

sauces

dips

nut cream or peanut butter

spread

soups
By the way: Drinks with an alcohol content of more than 22% are also not allowed. Unless you have purchased them in duty-free.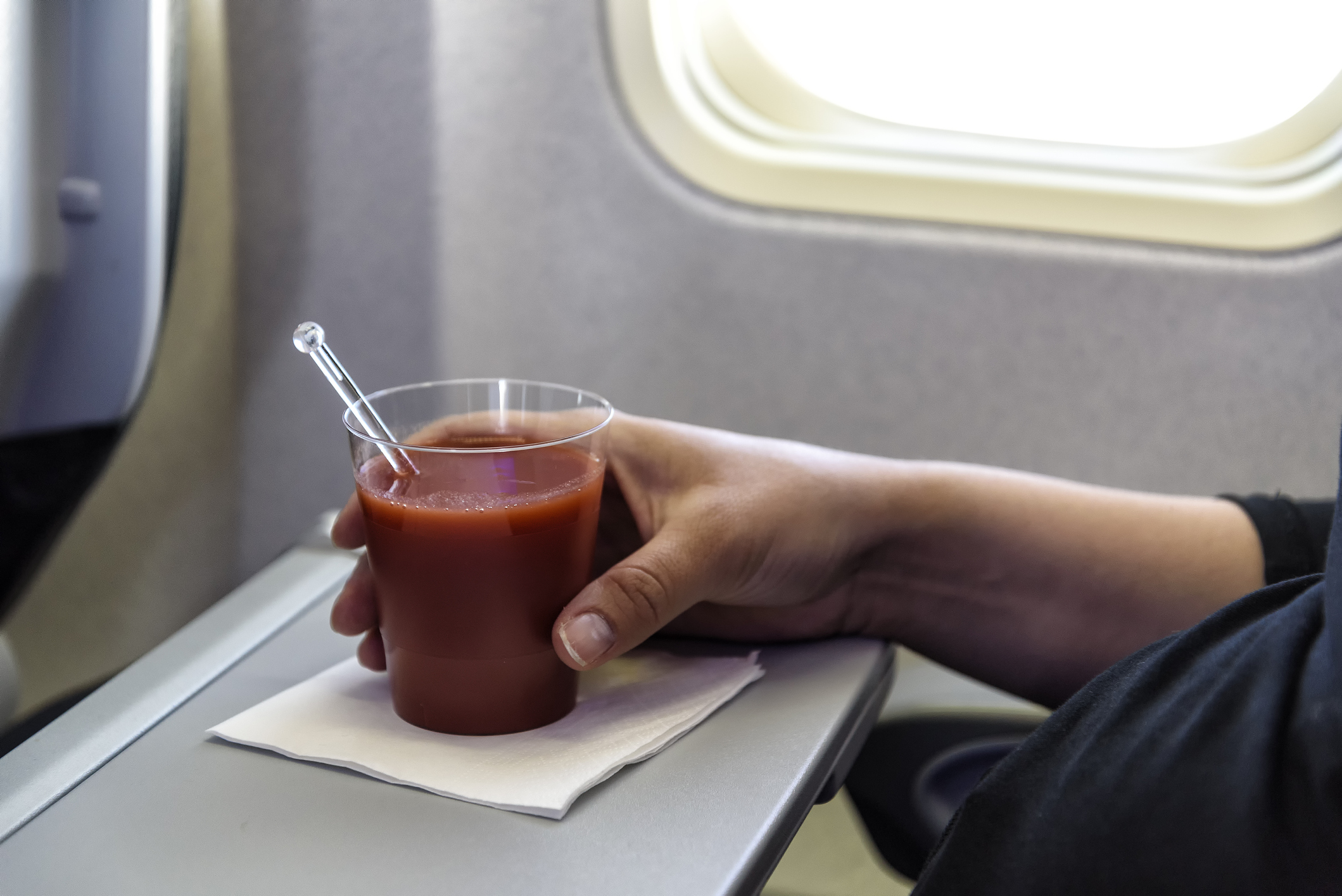 Why does tomato juice taste better on the plane?
Finally, we want to deal with a mystery when flying. Because no other beverage is ordered on the plane as often as tomato juice. Tomato juice tastes particularly fresh and intense on board, although many passengers would not normally drink it on the ground. But why does food taste different on a plane? And why is tomato juice in particular experiencing such hype on planes?
Scientists at the Frauenhofer Institute for Building Physics IBP in Holzkirchen conducted research. While tomato juice tastes rather bland on the ground, tomato juice on an airplane has a fruity sweet aroma and the tomatoes can be tasted more clearly. The reason for this is that at an altitude of around 10,000 meters, the taste buds can perceive things differently due to the change in air pressure and the lower humidity. Due to the drop in air pressure caused by the altitude, the oxygen concentration in the blood drops by 7% and the nasal mucosa dries out. As a result, the passengers' sense of smell, which is important for the taste experience, is impaired, as if by a cold.
In addition, tomato juice is significantly more salted and flavored on the plane, as salt is perceived 20 to -30% less than on the ground. Another reason is the so-called copycat effect. When passengers see other people enjoying a tomato juice, this awakens the desire to drink one as well. In addition, tomato juice is more nutritious than water, for example, and can therefore satisfy small appetites. The tomato juice mystery is therefore anything but mystical. Nevertheless, it remains fascinating.
We wish you a good journey and moreover: bon appétit!